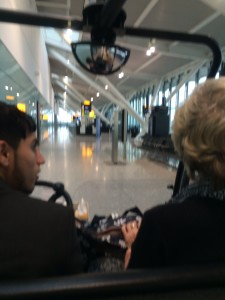 We are having such a busy time there isn't much space in the day for blog writing but I'll make a start, probably photoless until tonight.
Our adventures began early with our Journey through Terminal Five.
By far the most impressive part of the flight to Africa was the buggy ride through Heathrow.
We'll gloss quickly over the almost inhumane conditions of flying to Cape Town by British Airways Chicken Coop Class. The seats were unbelievably cramped – even my rather short legs were pressed right up against the seat in front.
The spacious buggy ride was something else! We and a fellow Cape Town bound traveller were escorted through the depths of Terminal 5, up and down in lifts, beep beep beeping as we went. Apart from the beeps we agreed it was like something out of a James Bond underground chase.
We had applied when we booked for 'special assistance', having bad memories of interminably long walks through Heathrow, struggling under increasingly heavy hand luggage. John's creaking joints cope at the time but he pays for it later.
When we arrived at Heathrow, accompanied by son Nick, it wasn't completely clear how to claim this assistance. Sensing it would be tactless for John to appear too vigorous I left him and Nick behind, chatting, while I eventually found a special assistance representative. Apparently we had to claim it 'over there' she said, waving vaguely into the distance. As John and Nick approached she said, to me, loudly, 'Is he going to be able to walk there?'
Interrupting my query as to where 'there' was, she scrutinised John who was by then at her elbow, turned to me and said in an even louder voice as if to someone decidedly both deaf and witless. 'Oh no! He is going to stagger a bit, isn't he?'
Fortunately, her attitude was so awful that it was funny, but it didn't say much for BA's personal assistance protocols although perhaps in their defence, the non English buggy driver was charm and courtesy itself, and the childish pleasure we derived from the buggy trip (11/2 to 2 miles the driver reckoned) more than made up for it.