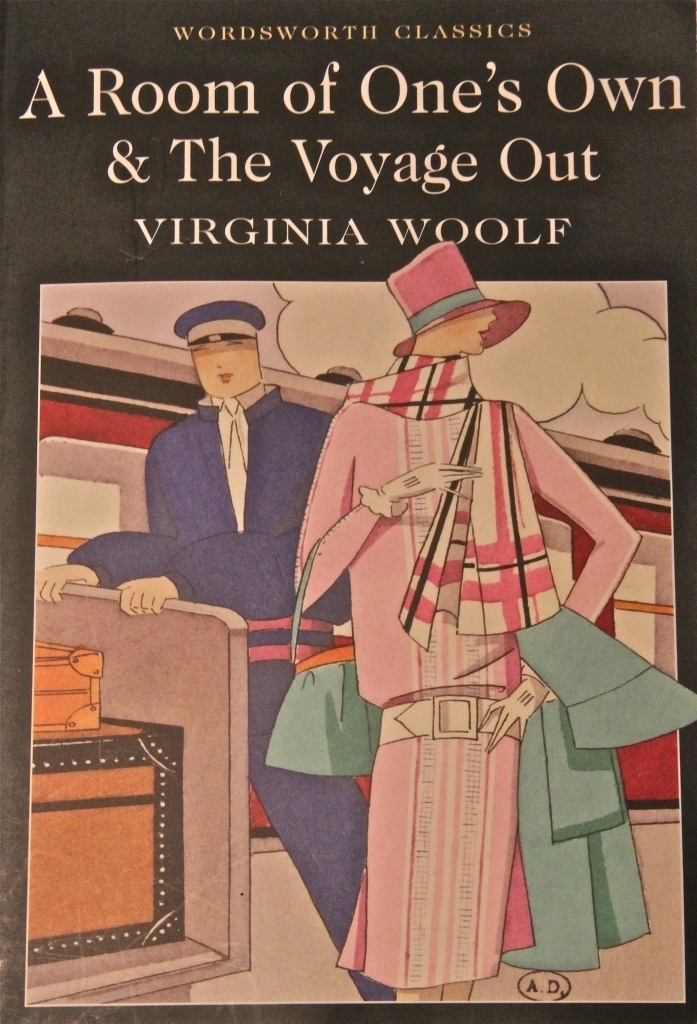 Our little Parwich book club met on Wednesday night to discuss A Room of One's Own, by Virginia Woolf. Three of us had absolutely loved it, two were not quite so sure, but what a stimulating, lively and entertaining discussion we had…
And how we all envied those undergraduates who had attended the lectures, and I was reminded that my mother, Rachel, who went up to Oxford in 1930, could almost have been in that group.
There was so much to talk about: firstly, the book itself. It had developed from two talks Virginia Woolf had given in 1929 to two women's colleges at Cambridge. She describes how she came to her conclusions whilst wandering around 'Oxbridge', enjoying the beauty and at the same time experiencing rejection from the men-only privileges of the well-endowed college libraries, museums and even dining halls serving lavish meals (unlike the prunes and custard she was given in a women's college!).
Her style is humorous, inclusive and compelling – she tells these women that they have the advantage of material independence, they can't afford to be angry – they must get up and write, the power is now in their hands, as independent females, to do so…
She accepts that they have no tradition to develop from. Women in the past were not free to write: they had no time to call their own, and had been brought up from the cradle to be passive and compliant, merely reflecting and not competing with their husband's talents. Because of their silent role in society men in general considered women as very secondary if hardly worth considering at all – Alexander Pope had considered that 'most women have no character at all'.
By the 20th century things were improving slowly. After the passing of the Woman's Property Act in 1870, women were allowed to own their own property. Previously, everything they might have brought to the marriage was deemed the sole property of their husband. Until 1919, less than 100 years ago, they still weren't allowed to vote, and when they were allowed to, they had to wait until they were 30!
Probably the 1st World War and later the second did much to start changing people's attitudes significantly. Virginia In A Room of One's Own concentrates in particular on women writing fiction. Her thesis is that one has to be independent to write fiction; she identifies this as having a room, or a private space of one's own, and the financial freedom to enjoy it productively: 'A woman must have money and a room of her own if she is to write fiction'.
Assuming that her audience in Cambridge in 1929 had achieved this, she has excellent advice for them and all would-be women writers.
"So long as you write what you wish to write, that is all that matters."
Don't be a 'skimmer of surfaces' but 'look beneath the depths'.
"The power of suggestion is all important…'it explodes and gives birth to all sorts of other ideas'…giving it 'the secret of perpetual life".
Virginia Woolf is often described as a rabid feminist, presumably by people who haven't actually read A Room of One's Own. Our feeling was that here she is no feminist. She is encouraging women, but not at the expense of men, feeling that in many ways the men have not had it easy either, being churned through a masculine machine of school, university, professional career; expected to be strong, powerful and successful. She acknowledges that 'The Suffrage Movement must have roused in men an extraordinary desire for self-assertion…which they would not have troubled to think about had they not been challenged'.
She does not argue that we are all the same. The differences are valuable: both men and women have strengths as writers which can and must complement each other. 'If two sexes are quite inadequate…how should we manage with only one?'
But no one is purely one sex or the other. She wonders whether'in each of us two powers preside, one male, one female'…'when this fusion takes place then the mind is fully fertilised and uses all its faculties'. Women mustn't try to write like men – "It is much more important to be oneself than anything else."
Our group talked into the night, and broke up with our minds still buzzing and I wishing so hard that I had talked to my mother more about her experiences at Oxford in the early 1930s. What a wasted opportunity!