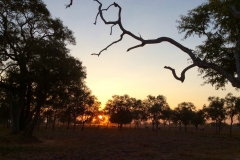 Bright sun, beautiful sunsets, brilliant birds. colourful clothes…On the one hand there was so much light and colour, but the landscape itself in the dry, cold season was dark green and dusty brown for the most part, serving as the perfect backdrop for all the random splashes of colour.
You have seen many of John's southern African birds – startlingly beautiful most of them, with iridescent purples, reds, greens and blues. We were struck too by the wonderful sunsets which every evening heralded the start of the sundowner ritual. The sun goes down quickly so one has to move fast to capture the sight and if it was just at the moment the wine or gin and tonic was poured, it was easy to miss.
As can be expected, John managed to capture several. If you look at the gallery – go to Blog Menu/John's Photos/African Sunsets, you will see them all – and I am proud to say one of these is actually mine. Can you guess which?