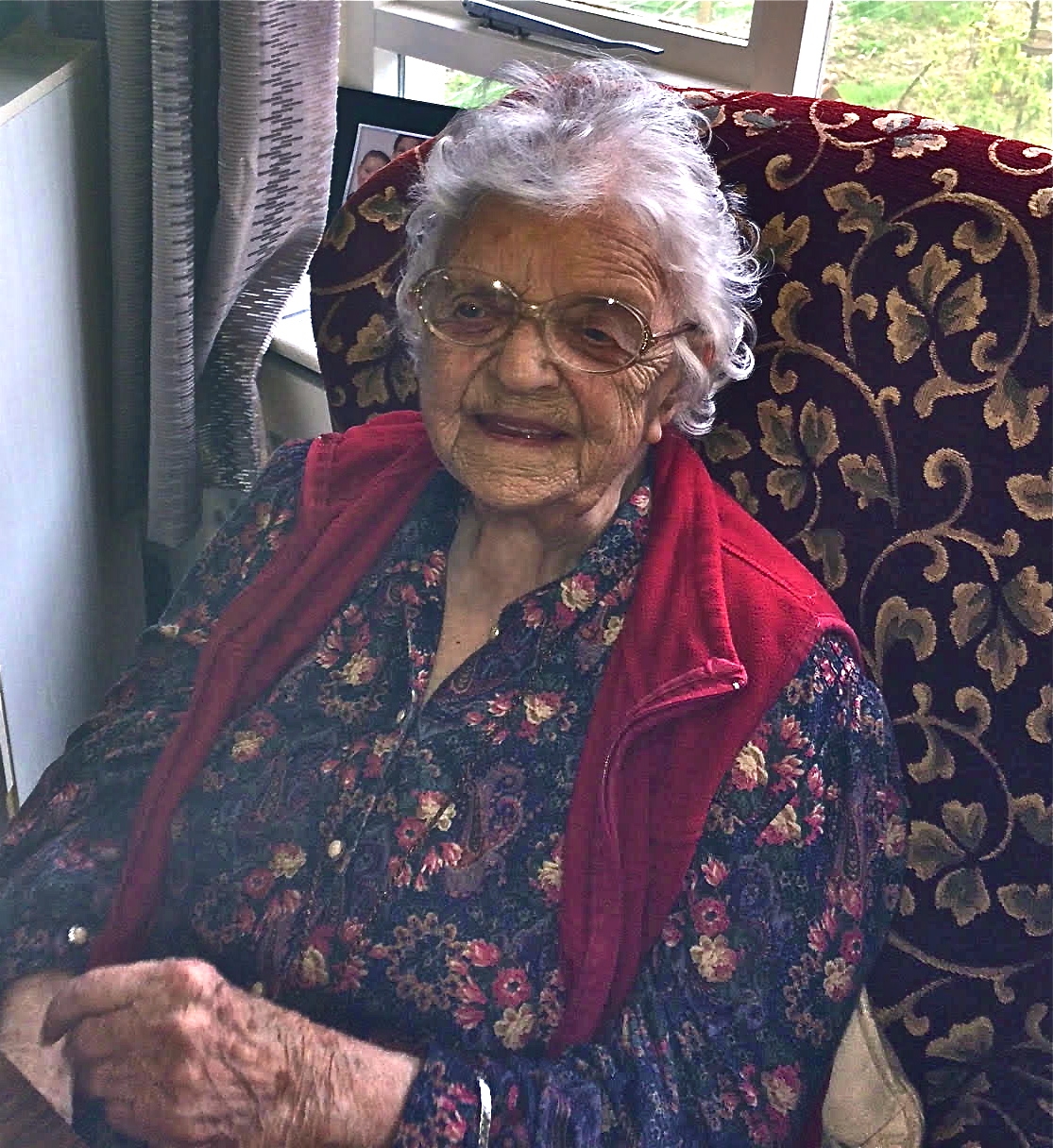 Alice, dear Alice, will be 100 on Thursday, 12th November. The queen has been reminded. Alice is a very special person, who has touched many lives since she was born a century ago during the 1st World War, and there will be many many other people near and far – as well as the queen – wishing her a very happy birthday.

Our family's link with her began in 1959, when she came to help my parents, Rachel and Douglas Hall, at Barnford, their house just across the road from the church in Ringmore. There she faithfully remained until my father left Ringmore in 1999 to live next door to us in Parwich. Over the years she very much become part of the Hall family and loved the contact with the extended family and all the many friends that came to stay.
She was born and brought up in Ringmore, where she also went to school, when the School House to the right of the church as you look from the crossroads above Barnford still actually was a school.
During the war she worked for Mr May, whose relations still live in the village, and throughout her life taught successive generations of children the piano (never accepting a penny in fees) and played the organ in church until her sight got too bad. She played at John's and my wedding in 1965 and then again for our daughter Sara and her husband Derek's wedding in 1999.
Alice was the only child of her parents, always referred to in the village rather formally as 'Mr and Mrs Farley'. Her father was a joiner and coffin maker. Alice's husband came from Kent but during the war was working in the Plymouth dockyard, repairing boats. He had come to Ringmore to buy wood from Mr Farley the Ringmore joiner and ended up acquiring not only the wood but a bride in the form of Alice!
Unfortunately, he contracted TB while working in the docks and Alice was left a widow with a young child, Norah, at the young age of 36. She stayed on in Ringmore, with her parents and her daughter, Norah, even when Norah married Chris and went to live with him in Kent.
It was only relatively recently that she left the village and her home of well over 90 years – to go and live in Kent with Norah and Chris. Since a bad fall she is now happily living in a very nice nursing home, very near them.
Although very much a Ringmore person, in later life she made several trips to London, recounting very amusingly her difficulties coping in a city 'where even the stairs moved', and her experiences as a frequent visitor to the House of Lords accompanying one of her near neighbours!
Typically, she is always very self-effacing, but do not be misled for a minute! She is actually an extremely talented entertainer as well as pianist. Acting, and her talks – always making very effective use of accents and her keen sense of timing – always went down extremely well.
As those who remember her at Barnford, her talents did not extend to anything mechanical and electrical. All such things terrified her, so as a result she tended to do terrifying things with them and the shorts, smell of rubber and burnt out motors that inevitably ensued only served to prove to her that her fears were well-founded.
Her talents and her personality far outweigh any inconveniences such as lack of skill electrically. She is wonderfully kind and and warm-hearted, and above all, so interested in everyone. Whenever we go to see her she asks about everyone, remembering their children and all their other interests. She still remembers all the Ringmore telephone numbers…
Unfortunately now her sight and her hearing are not good, but that is more than made up for by her wonderful memory and sharp intellect, her eyes always sparkling with fun and warmth and laughter.
She made a speech at my father's 90th birthday party, in February 1999. Nick has managed to reproduce the speech, and half of my father's reply, so I hope you can manage to listen to that wonderful humorous Devon voice. No doubt she will make a speech at her birthday party in the home on Thursday – I just hope someone will record it!