John had an appointment in York last week.
Having been given very precise details about the timings, at the last minute the date was postponed until August. We had already made arrangements to stay with Piers and Mary, some very special old friends (old as in longstanding you understand) who live in York, and were most reluctant to cancel the chance of seeing them so drove up as planned.
So, we had a really lovely unexpectedly free day…
York has always had a very special place in our hearts for very obvious and also more personal reasons having lived in Yorkshire for twenty years, and having many good friends still living nearby.
The sun shone, the old buildings looked wonderful and buskers were playing most infectious jazz tunes as we walked through the streets to meet our friends Sheila and Mark.
Below is the Merchant Adventurers' Hall, where mediaeval merchants met and conducted business; nowadays it is a lovely venue for weddings and parties, and exhibitions.
And here a distant view of the Minster. John squeezed in a quick visit but we'd liked to have had more time…
We met Sheila and Mark – two more very special friends since we were all at university together a while or two ago – for a coffee at the York Art Gallery.
Here is a quick snap of Sheila with John. He hardly ever appears in photos because it is usually he that is behind the camera.
Because it was such a lovely day we thought we'd explore the Museum Gardens in the sunshine before tackling the art indoors.
To our surprise we met a form of art outside – a pebble mosaic in the grounds of the ruined St Mary's Abbey, representing a geological map of the rock strata of Yorkshire.
Coming to it quite cold and being neither scientific nor artistic, I struggled at first to comprehend the geological significance of the strata but immediately found the beauty of the actual map very moving. I wished I had been able beforehand to read this excellent explanation.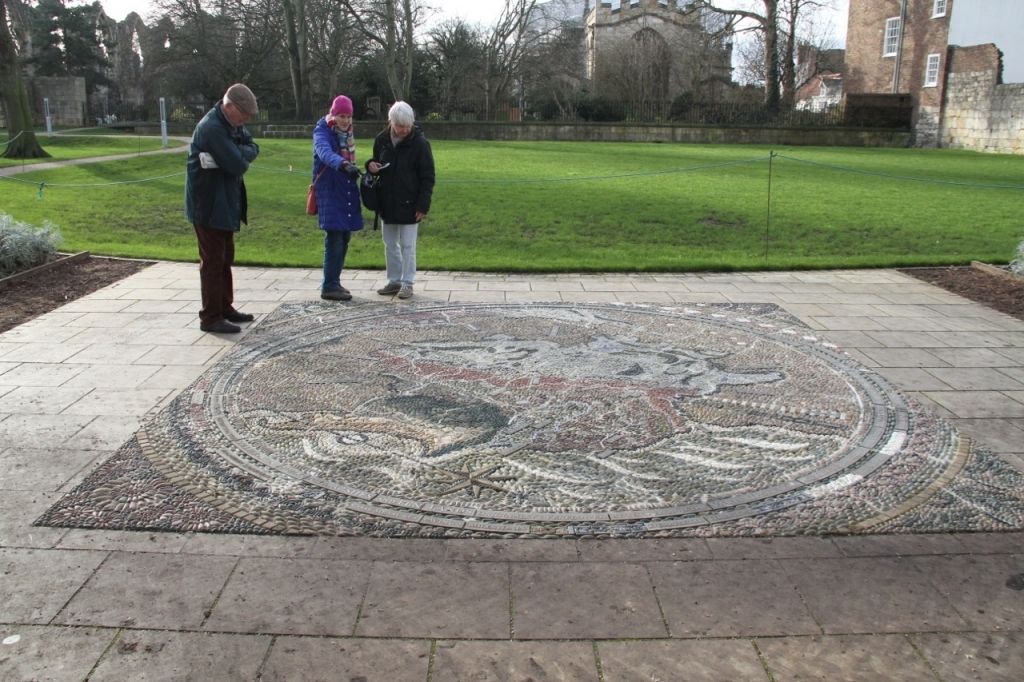 This modern representation – in pebble, fossils and semi precious stones – of the Yorkshire section of the maps that one William Smith had drawn over two hundred years ago was truly beautiful. It had been created by Janette Ireland, obviously an extremely talented and sensitive artist.
There are intricate fossil designs at each corner.
A copy of the original (paper) map is on display until 22nd April. We dd not see this, but apparently it went on to inspire scientists to work out a more accurate idea of the age of the planet and underpinned many aspects of the Industrial Revolution.
Poor William Smith is honoured now, but struggled during his lifetime against plagiarism, debt and the contempt of many of his contemporaries who despised him for his humble origins and lack of conventional learning. However, he was obviously extremely intelligent and it was while working at coal pits and then canals, railway cuttings, quarries etc that he first noticed that layers of rock, and the fossils within the layers, were remarkably constant throughout the country.
You and I can read more about it… And now I display my ignorance once more. I had not heard of, let alone actually read all about it in a well reviewed book by Simon Winchester, himself a geologist. It is now on my Wish List!
Having absorbed all this knowledge, we strolled back through York with Mark and Sheila, resisting the temptation to pop into many (if not quite all) of York's famous shops, including Betty's, which was quite some feat.
However, we knew we had another treat in store when we got back to Mary and Piers. They are the most generous and hospitable of hosts, and Mary a wonderful cook.
The end of a lovely day.
Hope this blog post doesn't have the same effect on you, dear reader, as my lively conversation obviously had here.