A very useful – and delicious – multi purpose tomato sauce, dip or spread from Malawi.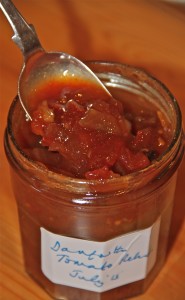 Danforth Tomato Relish
2015-07-14 02:53:52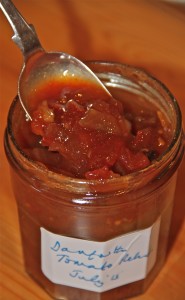 We enjoyed this so much while staying at Danforth Yachting in Malawi that we asked Michelle for her recipe which she was god enough to share with us.
Ingredients
3 Kg Tomatoes;
1 Kg Onions;
1 Kg Sugar;
8 tsp. Salt;
½ tsp. Cayenne Pepper;
2 level tsp. Curry Powder;
2 level tsp. Mustard Powder;
Pickling Spices (e.g. Mustard Seeds, Cloves, Bay Leaves;
Brown Vinegar - enough to nearly cover contest of pot
Instructions
Cut up tomatoes.Sprinkle with 4 tsp. salt;
Slice onions. Place in another bowl. Sprinkle with 4 tsp. salt;
Leave the onions and tomatoes to rest for 12 hours;
Pour off the liquid and discard. Place the onions and tomatoes into a large stainless steel pan. Almost cover with vinegar;
Add sugar. Boil for ½ hour;
Add cayenne pepper, curry, mustard and spices;
Boil for another ½ hour;
Add 4 tbs. flour, which has been mixed to a smooth paste with vinegar;
Boil for 20 minutes;
Pour into sterilised jars or plastic containers
Store in the glass jars in a cool place or the fridge, or in the freezer if in plastic containers
Notes
This really is delicious! It can be used as a sauce, a relish, a dip or a spread, even put into casseroles to add flavour;
Experiment with the amount of curry, pickling spices etc.
themarionfsblog https://www.themarionfsblog.com/