Life-changing…? For the better I hope. But magic and tidying don't sit convincingly together.
I wonder if I have got more than I bargained for. Is my life truly going to be changed, over and above buying a house, moving again and leaving Parwich?
As you know, we are downsizing, seriously in everything apart from our own girth. And to emphasise the need, the house we have fallen in love with is a very tiny little cottage, very charming but very petite.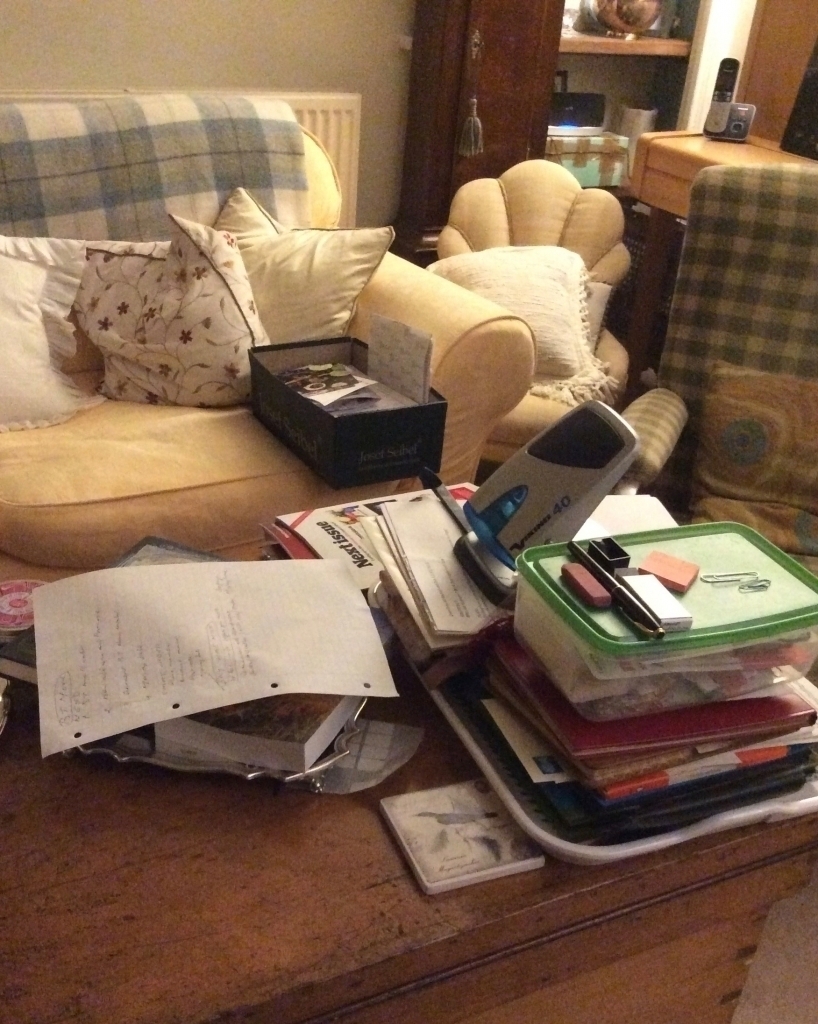 In anticipation of severe downsizing all I hoped to do, is ruthlessly to sort, clear, declutter our possessions… A very down to earth, practical time-consuming and ultimately, boring task…
We had talked a lot but done very little about it when, out of the blue arrived from Am-you-know-who a book from darling daughter Ruthie, called 'The Life Changing Magic of Tidying' by Marie Kondo. I actually only noted the magic word 'Tidying' and if it hadn't been so obviously true that help is needed I might have been hurt.
And because it was from Ruthie, and because starting to read the book rather than actually getting on with the purely practical process of tidying was rather appealing, I started reading.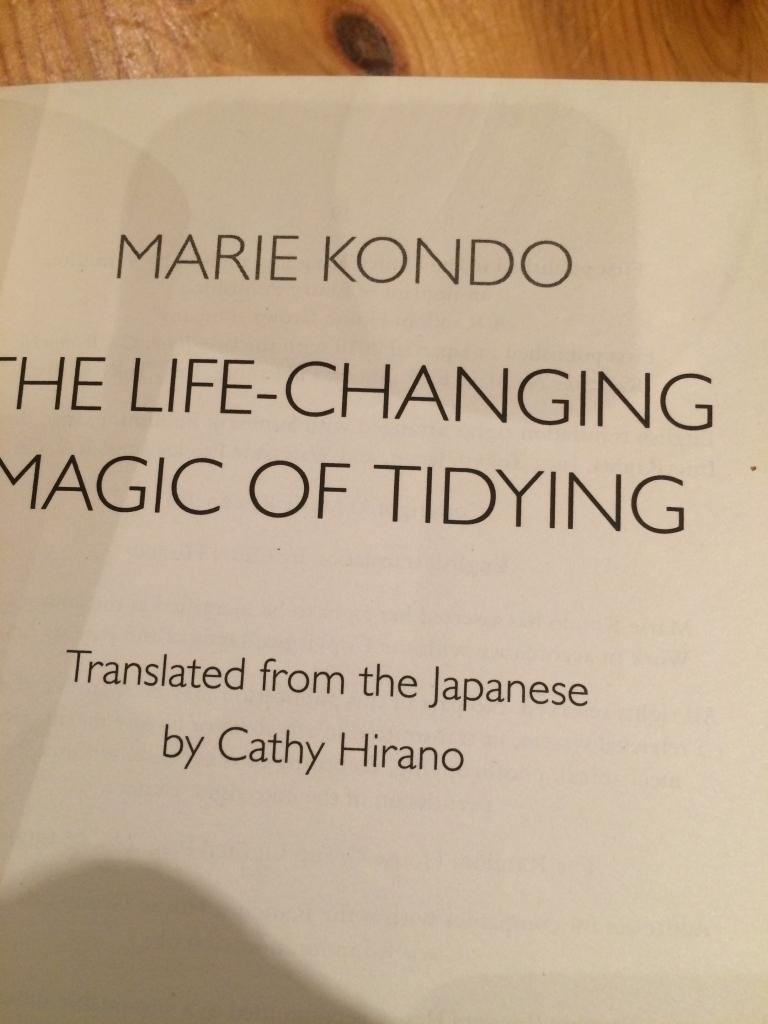 The author, Marie Kondo, actually talks a lots of sense although her tidiness obsession must be hard to live with – her family must have been very long-suffering when – even as a young child – she continually binned their possessions or nagged them to do so themselves.
However, her obsession and long experience of decluttering has paid off. She is full of very wise advice. Sort into categories. Tackle the easiest category first, which she reckons to be clothes, and divide these into subcategories. Gather all of one sub category together – tops, dresses, suits, whatever. So far so good.
Then pick each item up, one by one, and ask yourself 'Does it Spark Joy?'
This sounds uncomfortably weird, but I discovered that it really works. Some things one only keeps out of habit, or 'just in case', or because someone gave it to you, or it might fit one day. One doesn't feel happy about it but burdened by negative emotions. The answer is simple: if an article does't 'spark joy', then bin it. She stresses, only keep what makes you feel better, rather than negative, burdened. Having applied the process to our shoes, I can only agree that we both felt unreasonably pleased with ourselves.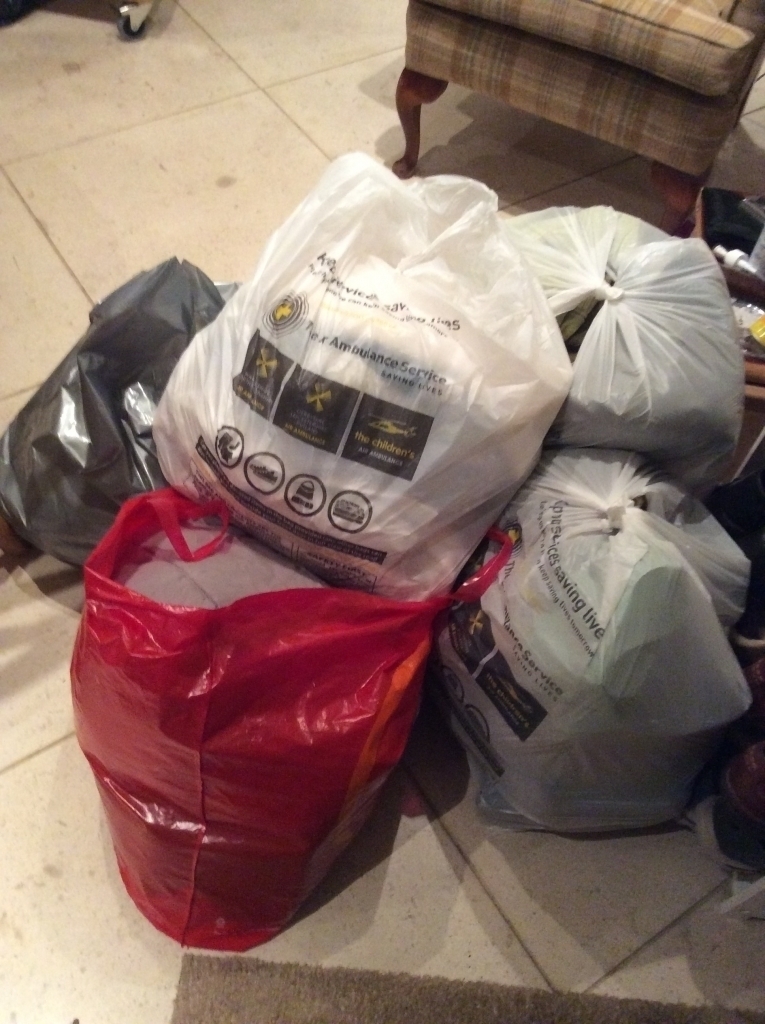 I have yet to finish the book, but I have now reached a stage that feels even closer to being weird.
Once you've sorted through the category, put everything away, folding clothes in vertical piles, so looking at the contents of a drawer is like looking at a row of books on a shelf.
So far so good. That makes sense, to be able to see what is there, rather than rummaging through and disrupting neat horizontal piles. She is very keen on the actual folding process, and stresses that it is important because touching something transfers energy and love to it. Running one's hand over a drawer full of clothes is a form of communication, which keeps the articles vibrant.
This may be a step too far. I have yet to be convinced but before I am too critical, I ought to a) finish the book and b) finish the sorting process. She reckons it will take six months. As we hope to move within a couple of months, this adds to the pressure; hopefully an extra bit of magic might speed the process in a special case.