This post I wrote yesterday, but am rather behind with the posting. The photo was mine, not John's, in case you are in any doubt…
We are hopping up Africa gradually: first the Cape's Mediterranean climate, now the temperate grassland of where we are when now,1640metres above sea level, about 11/2 hours' drive west of Joh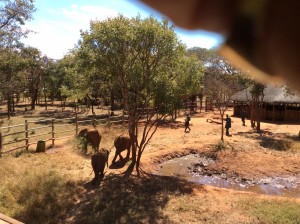 annesberg.
The Cape was wonderfully green and beautiful, quite lovely, Africa but not Africa. Since yesterday we have been staying with our friends, Peter and Etain Hewitt and are enjoying what seems much more African, and already more familiar, but it's not the tropics yet.
Incidentally, it is winter here. Although the days are pleasantly hot the nights are perishing. (I'll tell you some time about how cold we were at night in the cold season at school in Bulawayo). Last night there was a frost, and believe me, houses here are built for the much longer very hot summers, so the emphasis is on airy rather than cosy.
Tomorrow we cross the Tropic of Capricorn and enter the tropical Africa of my childhood!
Today we have had two trips through the bush around Etain and Pater's house. They own a game park, and Peter took us on an extremely rough and stony Landrover drive to show us the sites and what animals we could spot Wildebeest, Zebra and a with two very young babies. They were all quite unbothered by the vehicle.
We heard much talk about snakes and only afterwards was it explained that one is most unlikely to spot any during the cold season.