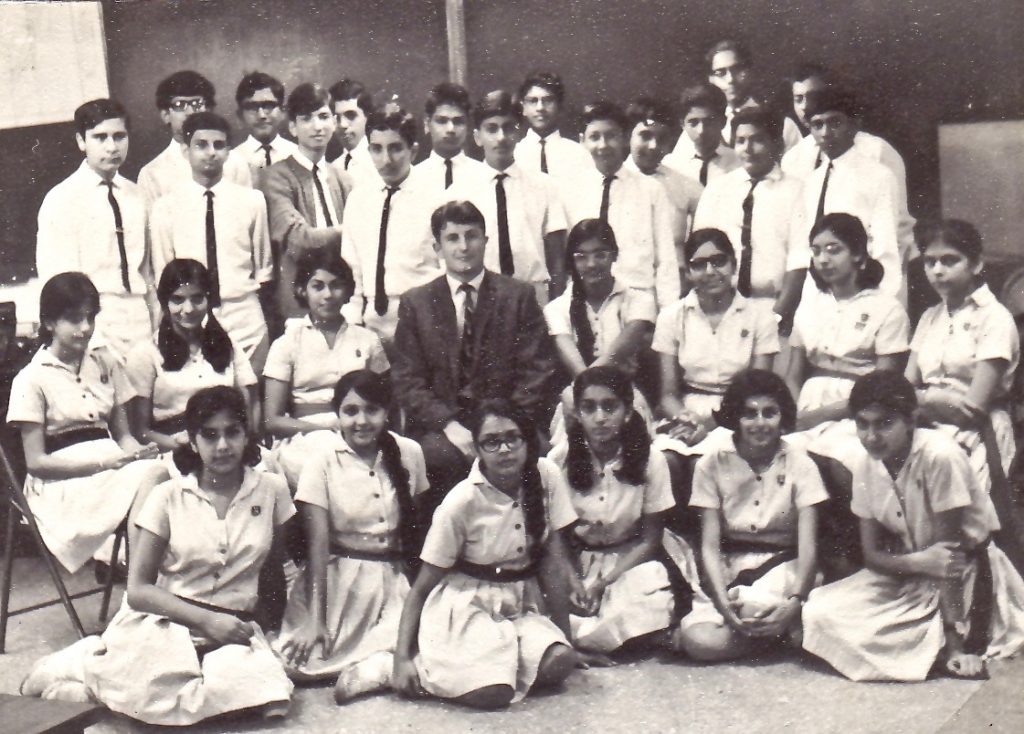 Completing the circle, half a century later
When we left India in April 1968 we imagined we were leaving for good. John's three-year contract with the Cathedral and John Connon School in Bombay had come to an end and he had been offered another teaching job in the UK. We had thoroughly enjoyed our time in India, but were now, complete with baby (Ruth) embarking on the next stage of our lives.
Little did we think…
Little did we think that over 50 years later, we would find ourselves back in India, and relishing every moment of the amazing opportunity to return to where John embarked on his teaching career and where we began our married – and 'grown up' – lives.
Thanks to the persuasion, overwhelming kindness and generosity of John's ex-pupils half a century later we have completed the circle. And what a wonderful life experience it has been! It is invidious to mention names, when everyone has been more than generous, but we do owe very special thanks to Shyla Boga Patel, Vinod Kathapa, Pesi Sidhwa and John's brother Blair; also to Kavas and Meher Dadhaboy for their generous hospitality on our last night. Thank you, all.
Firstly as you know we spent a memorable week in Kerala, as unashamed tourists – flying to Kochi (Cochin) for two nights, then on to Alappuzha (Alleppey) for a brief stay on a riceboat in the beautiful Kerala backwaters, then a tortuous seven-hour drive up a road damaged by recent landslides up to the truly delightful Spice Tree, in Munaar and finally a lovely two- night 'homestay' at Dewalokam, an organic farm.
Hopefully at last I'll be able to download some photos, painfully absent in my posts actually written from India. But the overall impression of our time in Kerala has been one of kindness, courtesy, colour, lush and colourful vegetation, abundant pineapples, rice, tea, coffee, rubber plantations, truly delicious food, beautiful views, amazing waterfalls, dreadful roads and terrifying driving…!
(Fortunately our driver in Kerala, Biju, was superb. He admitted that to drive in India one needs good luck and good brakes! He obviously had both. Three-wheeled tuk tuks lurch from side to side, lorries and cars peep permanently as without hesitation they overtake on left or right… And extraordinarily, although we almost permanently anticipated fatal disasters we did not witness even one minor scrape.)
Then we flew up to Mumbai (nearly everybody still seems to say Bombay) and suddenly we were no longer mere tourists but greeted and treated as honoured guests. We were driven straight to the U Tropicana at Alibag, where the 1969 Leavers had booked nearly all the 32 bedrooms and John and I were treated like minor celebrities – a totally novel but admittedly very heart-warming experience!
We spent nearly three delightful days here, getting to know everyone again and catching up with everyone's news. People had flown in from all corners of the world, where many are doctors, surgeons, lawyers etc., everyone very generously ascribing their successes at least partly to John's inspirational teaching: 'making them think', identifying their personal strengths and having confidence in their abilities. I glowed with pride, while John muttered that 'they must have got the wrong chap'!
The final spell of our quite amazing time in India went in a whirl of Founders' Day service and celebrations…
…and parties, a final nostalgic lunch in the Bombay Gymkhana with Shyla and her husband Naushad on our last day…
…and that evening a spontaneous dinner party for twenty 1968 leavers hosted by one of the 1968 leavers, Kavas Dadabhoy and his wife Meher in their flat on Malabar Hill.
John had brought over with us his mark book, complete with his personal comments about the then teenagers which everybody – now in their sixties – found most intriguing.
I just had to add a final photo of the delicious food we all enjoyed. I do miss it now and have come back – ever hopefully – with recipes and some local spices.
Such kindness, such generosity, such loyal friendship, such warm gratitude to John… And such an incredible, life-enhancing experience for us both. And back we flew to England where Sara and Derek and Tom have flown over from Australia to join the family in a modest whirl of 80th birthday get-togethers soon to be followed by Christmas.
Next year will be a quiet one. Nothing could beat our Indian experience.