Don't you ever wonder, as you walk or more likely hurtle past elegant apartments, august institutions, or even rows of terraced houses lining the railway track, at the lives that go on behind those doors, what it is like to live or work there?
For many, London can feel an almost frightening world apart.
Yet for one very special weekend in the year, we – the public, ordinary people – are given free access to over 800 buildings, offices, private houses and even mausoleums, throughout the city.
This amazing opportunity is thanks to the concept 'that great design – in architecture, urban design, planning and infrastructure – can transform the lives of ordinary people for the better, London Open House.
What an amazing privilege! The only problem is that London is huge, and one only has two days – and we only had one – so it needs careful planning to see more than tiny proportion. This year our minds were made up for us, because – perhaps not exactly transforming our lives for the better – John and I had long hoped to take the opportunity to delve a little more into some murky family history.
So last Sunday, Ruth, John and I set off Richmond/Twickenham-wards, to visit the Kilmorey Mausoleum, where a great great (I think that is the correct number of greats) aunt on my mother's side, Priscilla Hoste, 'the beloved of Jack Kilmorey', lies – peacefully, one hopes – in her tomb.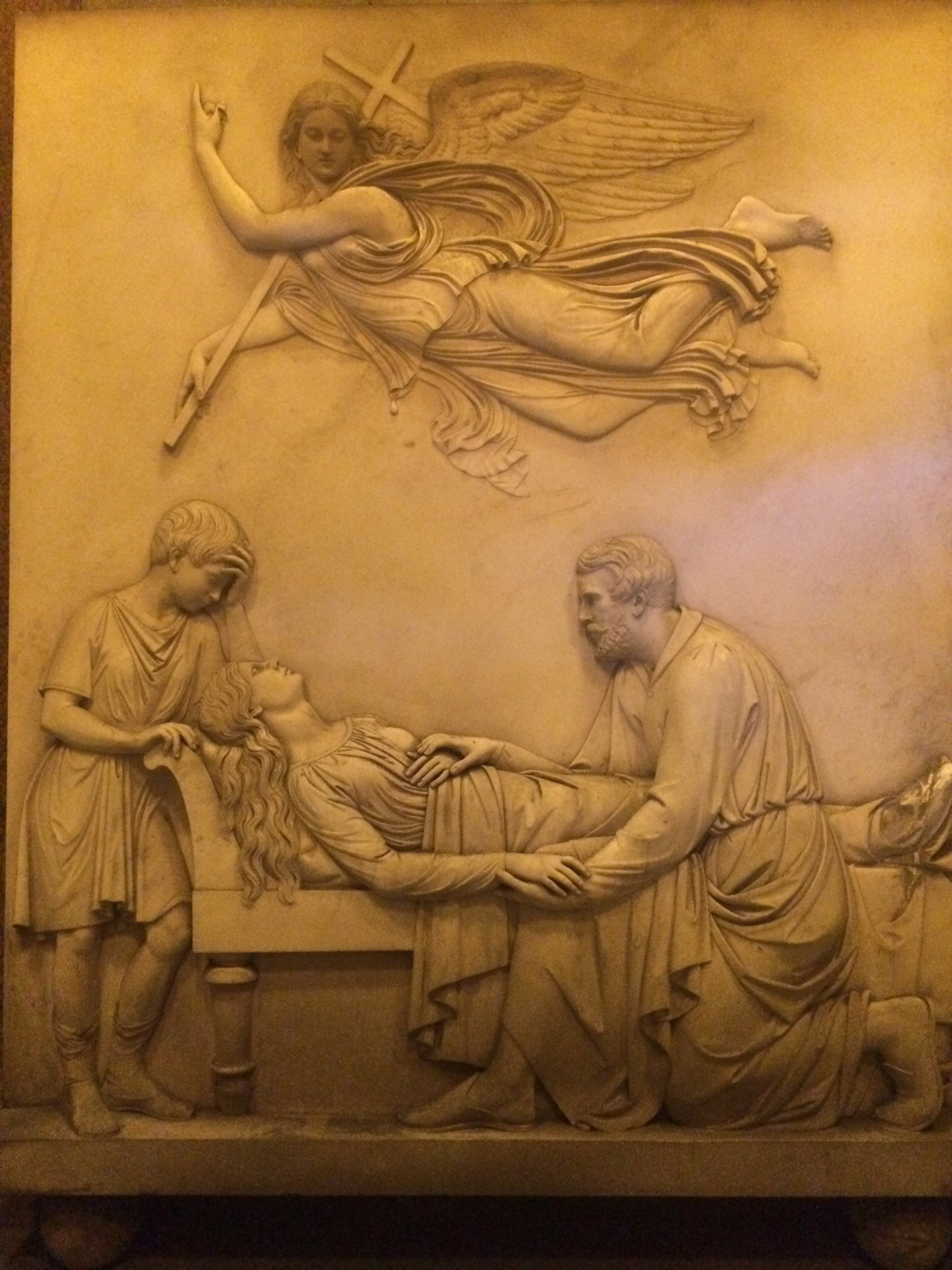 We found it very moving. We didn't however learn much more, except the suggestion that Priscilla's mother, Lady Harriet Walpole, may possibly have encouraged the liaison of her daughter with the already married, much older, legal guardian of her daughter! Even more shocking was the suggestion that Lady Harriet herself may have enjoyed his attentions from time to time!! What basis there may be for these suggestions we have yet to explore. Clearly there is more research to be done, so watch this space…
Meanwhile, we visited another mausoleum, that of Sir Richard Burton – explorer, translator of the Kama Sutra, the Perfumed Garden and the Arabian Nights, Mecca pilgrim and not of Elizabeth Taylor. His mausoleum is shaped like a tent complete with patched tears and with even the tent ropes carved in stone.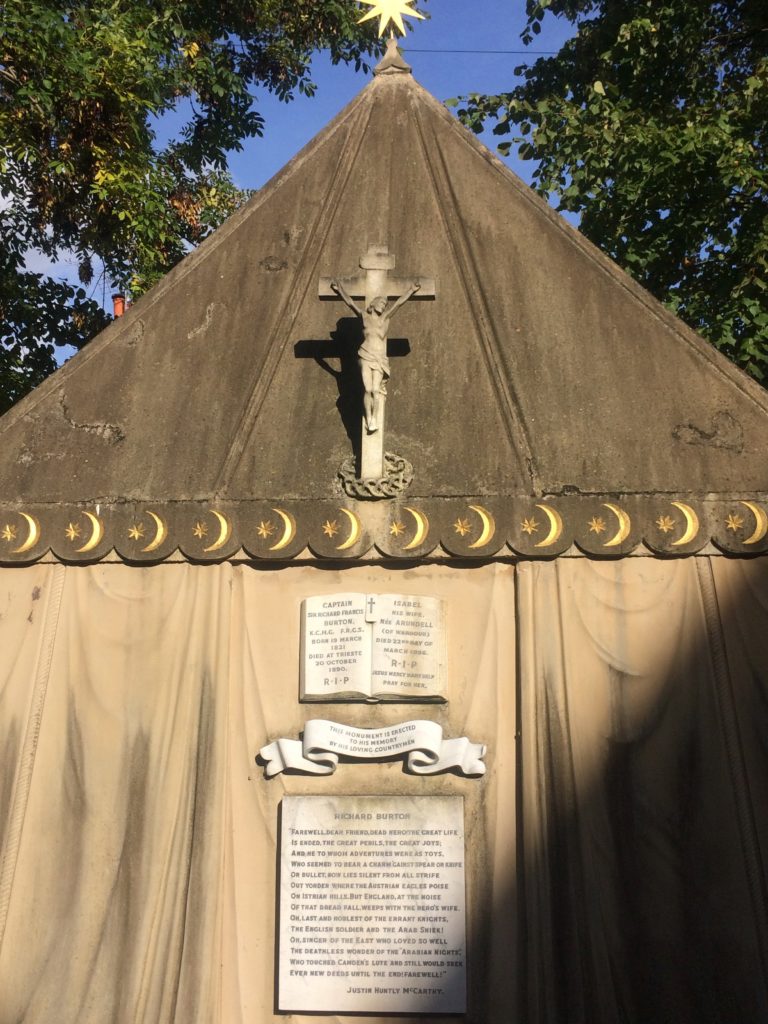 As a contrast to these graves of long gone people, we also visited two current homes, both a welcome reminder that planners are not always negative, despite any unreasonable doubts one might have harboured. One is The Darke House, a 1960s architect designed (Geoffrey Darke) brick house built within a row of extremely elegant Georgian houses; the other a most exciting wonderfully airy and light modern open-plan interior with curved walls and lots of blue, (sails, sea…) incorporating the garden, within what looks from the outside like a very nice but unexceptional semi!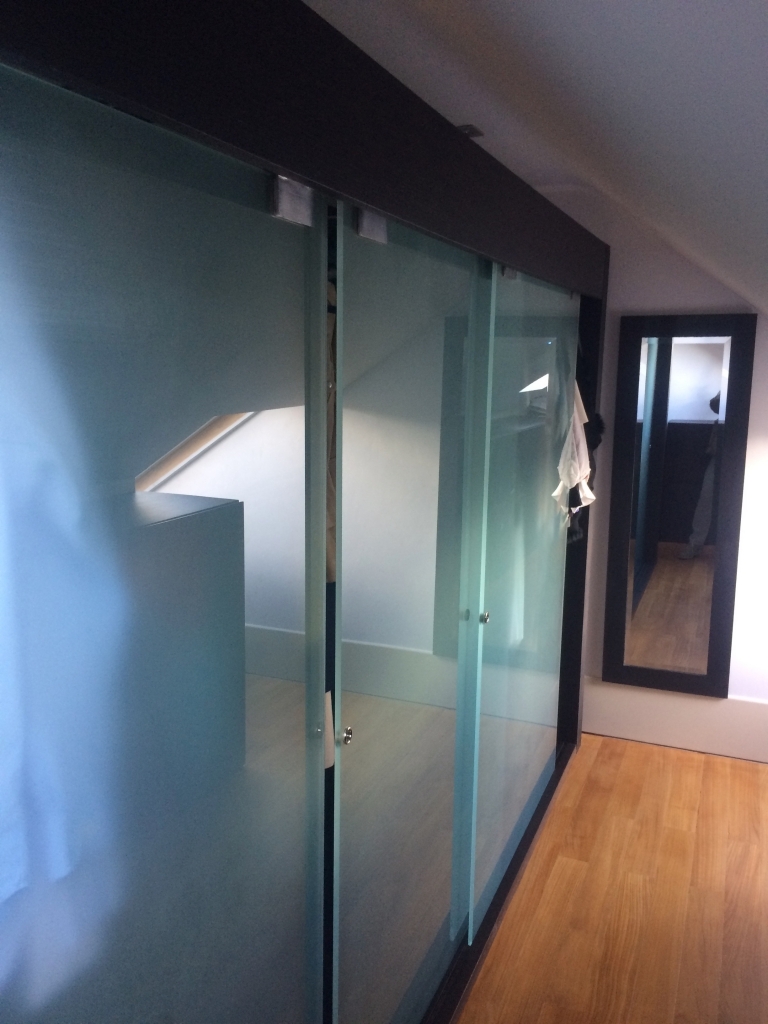 All very minimalist and modern but I was heartened to see a garment obviously stuffed at the last minute into a row of rather gorgeous glass-doored cupboards. So even minimalists are human.
Next year London Open House weekend is September 22nd and 23rd (2018). I do most heartily recommend a visit.
And as an afterthought, if anyone of you reading this can add to our rather scanty knowledge of 'the Kilmorey affair' we would be delighted to hear from you.