I have been a Mary Berry fan ever since my parents bought Barnford, their house in south Devon, which had a very old Aga complete with a very old Mary Berry Aga Cook Book.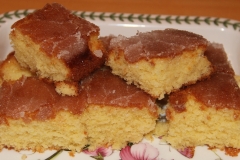 Lemon Drizzle Cake
2015-07-29 12:47:57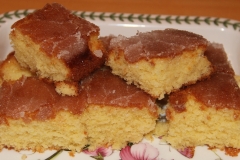 An easy and delicious very lemony traybake
FOR THE CAKE
4 eggs
250g soft margarine
250g caster sugar
350g self-raising flour
3 level teaspoons baking powder
6 tablespoons milk
grated rind 2 lemons - or limes, see below
FOR THE TOPPING
350g caster sugar
Approximately 5 tablespoons lemon juice (I usually simply use the juice of the 2 grated lemons used for the cake.)
Instructions
Heat the oven to 180C/160C Fan/Gas 4. If you are lucky enough to have an Aga, use the top oven, not forgetting to use the cold plain shelf above.
Grease and line a baking tray 30 x 23cm/12 x 9in
Measure all the ingredients straight into a bowl (the bowl of an electric mixer ideally) and beat until the mixture is quite smooth - at least 2 minutes if using a wooden spoon or hand held electric mixer.
Pour the mixture into a baking tray and bake for approximately 30 minutes, or until the cake feels spongey when you press it gently, and the sides of the cake are beginning to come away from the tin.
Take it out of the oven and leave it in the tin for five minutes or so.
While you are waiting mix the sugar and lemon juice and warm it gently in a saucepan.
Pour this over the cake as soon after it has rested for the recommended 5 minutes.
VARIATIONS
Limes make a delicious alternative to lemons
For a Lemon and Poppy Seed version add 2 teaspoons of poppy seeds to the cake mixture.
Adapted from Mary Berry's Sharp Lemon Slices
Adapted from Mary Berry's Sharp Lemon Slices
themarionfsblog https://www.themarionfsblog.com/
Hailing from Africa/boarding school etc none of us had ever had much cooking experience, and we had never met an Aga, let alone at such close quarters before, so in order to eat we had two major hurdles to overcome: first how to light, keep alive and actually use the solid fuel Aga – which even then in 1959 was ancient and easily provoked – and secondly and rather crucially, how to cook.
We followed Mary Berry's instructions slavishly as she guided us throughout. Fortunately her recipes are completely foolproof and I have never yet tried any that haven't tasted good, except when the Aga went out on us and you can hardly blame her for that…
It was a long time before we dared branch out into the luxury of cake-making, but we got there, eventually.
The Lemon Drizzle cake I make is a variation on her 'Sharp Lemon Slices', page 103 under Home Baking in my copy of the Aga Book. It quickly became one of the favourite 'welcome tea tray' cakes that I used to make for all our holiday cottage guests, and I know that Angela Dunlop, the new owner of Orchard Farm, has followed suit. So to sample it you'll have to call in here – you'll be most welcome – or book a holiday at Tom's and Douglas's Barns!