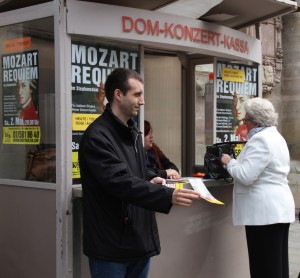 There was a time when our family trailed around after us. Imperceptibly, there has been a complete turnabout and we are now trailing round after them, very happily and much more excitingly. We have perhaps to a fault never overpraised our children but I will fleetingly admit they do seem to us to lead rather more successful and interesting lives than we ever did at their age.
Our latest jaunt in the wake of a grownup offspring was a musical weekend in Vienna, once again as Addison Singers groupies, sheltering under the success of their wonderful rendition of the Mozart Requiem in St Stephen's Cathedral in the centre of Vienna.

1500 people packed the cathedral and the choir had a standup ovation at the end, which was praise indeed in Mozart's own city. We felt so proud of our vicarious contribution (in the form of Ruth, our eldest).
We had a very happy weekend in Vienna, staying just round the corner from the cathedral, at the Kaiserin Elisabeth Hotel which we are more than happy to recommend! Convenient, extremely comfortable, lovely breakfasts and most helpful and accommodating staff…
There is so much to do and of course we could only nibble at the edges. We had some delicious meals but found the Wienerschnitzel somewhat overrated; we walked along the (grey/brown) Danube and visited the Belvedere where we saw many delightful paintings including many original Paul Klimt. There is much more to see and do – a return trip would be no hardship.
I wonder where the Addison Singers will take us next…