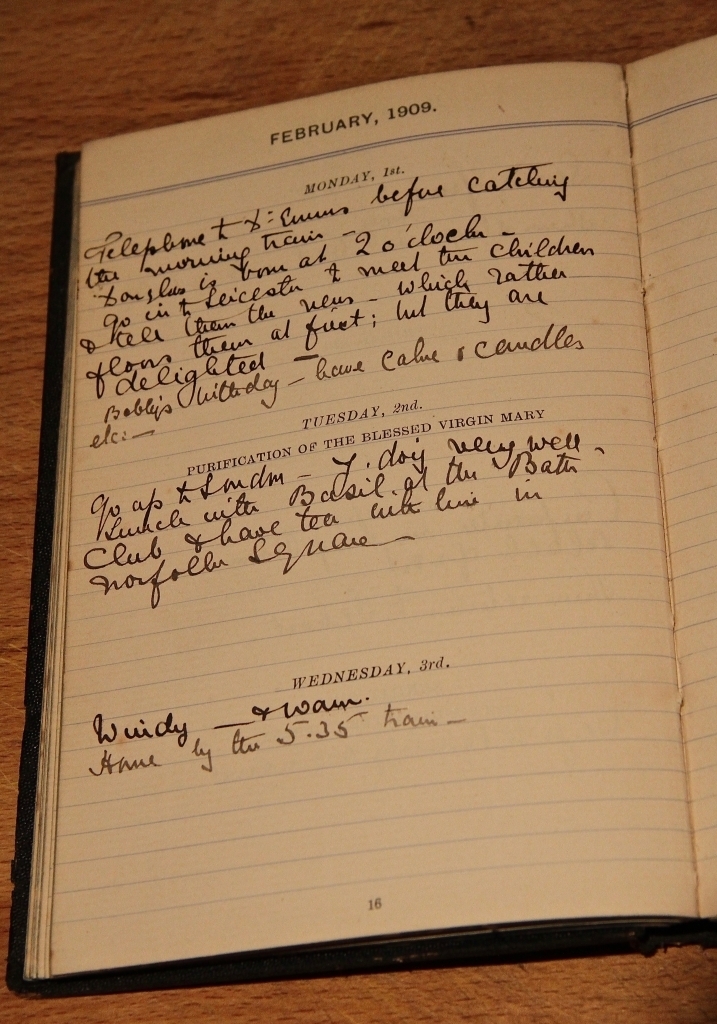 108 years ago today, on February 1st 1909, at exactly 2pm, a baby boy was born in a small village near Leicester.
His father, Lionel, records the event very briefly in his diary:
'Telephone to Dr. Emms before catching the morning train. Douglas is born at 2 o'clock.'
The next day he records that 'J is doing well', J being Jane, his wife and mother of their third child and our granny/great and great-great granny, aunt, great aunt etc… It will be interesting to unearth her journals, to see how she records the event if indeed she does at all. It was not the era of public emotional outpourings.
And so arrived Douglas, Douglas Basil Hall, father and grandfather and uncle – and true friend – to so many of the wider Hall clan of Halls, Craggs, Fuller-Sessions, Lathams, Whitlocks, Jacksons, Constantines… The list is long.
No doubt it was a happily welcomed event in the Hall household, but discreetly so. There has been no obvious hint in his journal entries for the previous weeks of the impending arrival apart from the fact that a week earlier a Nurse Bradley had come to stay. They had many friends to stay so this in itself is only significant in that she is designated by her role as 'Nurse Bradley'. (It is amusing to learn that there was 'great rejoicing by everybody – no one liked her…'when she leaves a month later.)
The two older sons, Bobby (11 that very day) and Kim (nearly nine) obviously had no idea at all of the impending birth. Their father notes in his diary that they were a bit floored at the news, but – being kind and nicely mannered boys – they managed to convey their delight. February 1st rather unfortunately happened to be the older boy, Bobby's, 11th birthday. He confided later that he would far have preferred a cricket bat to a baby brother and felt rather let down at his parents' choice of birthday surprise.
Soon very touching little entries appear in the otherwise very factual journal. On April 8th Douglas was christened, behaving well after screaming a little at first; his first tooth on July 29th, his first words on Saturday 28th October – "'Dad-dy' on hearing me coming upstairs". He was weaned the next day.
Here he is with his father, several years later.
I am finding it rather moving, reading about Douglas as a baby, when of course all of us only knew him as a grown man, a kindly, loving and wise family man, also more widely known and respected after a successful career and serious interests in radio circuits and 'interesting' cars. He had over 100 articles published in various radio magazines explaining circuits and providing construction advice and commentary, and there is even a website created by one of his followers.
I must add, that he would be the first to credit Rachel, his much-loved wife and our mother with making this all possible. I would also add that the reference to his often being offered concubines by a grateful Somali tribe is a new one on us! John and I are quite sure he would loved to have boasted about this misguidedly generous offer.
This is purely a family reminiscence, not in any way an obituary but for any of you that would like to refresh your memories here is a link to the Daily Telegraph. I cannot for the moment find the link to the Times obituary but will add it when/if I do. My brother John may well be able to help.
Finally, we have also just heard that his (photo) portrait is in the National Portrait Gallery but whether it is in storage or on display I can't say.This oil painting done by Lucy Moore to celebrate his 90th birthday overlooks my desk as I write.
So Happy Birthday to Douglas, who meant so much to many. We still miss you.