There has been a flurry of email and Facebook reminiscences about school which remind us all a) what good friends we made all those years ago, and b) how very long ago all those years were. Yet
some of those memories are still very vivid. So forgive me while I reminisce a little.
Obviously you will find it hard to believe, but sixty three years ago this January my sister Ruth and I became pupils at St Peter's Diocesan School, Bulawayo, aged 12 and 11 respectively.
It was January 1953, and we were nervous. We hadn't visited the school before, and had never met a nun. We had spent the previous year very happily – once we got used to the strictures – boarding at a school called Sakeji right up near the then Belgian Congo, run by Baptists and Plymouth Brethren for the children of missionaries.
There, my sister, brother John and I were the only children of non-missionaries, and were soon uncomfortably well versed in the sins of families who went to Scottish Country dancing parties in the holidays, had mothers who wore even minimal makeup and fathers who smoked. I felt obliged to write to our mother begging her not to put on the tentative dab of Pond 's Natural lipstick she brought out for special occasions, and my father not to smoke his pipe (horror of all horrors…) when they came to fetch us at the end of term.
But we quite quickly adapted, and apart from Sundays when one was not allowed to do anything very much at all, and the threat, avoided thankfully, of a machine belting for serious misdemeanours, Sakeji was otherwise a happy, relaxed, outdoory, climbing-trees-swimming-in-the-river sort of school where you only had to wear shoes for class and in the dining room; two terms of eighteen weeks each, each with two 'half terms', because so many children came from the Congo and Angola, some living over a thousand miles away and no cheap air travel in those days.
Sakeji was low low church. St Peter's on the other hand was about as 'high' as you can reach, as were soon to discover. What a steep contrast!
That January, the three of us, Ruth, John and I had come up to Bulawayo together on the train from Cape Town where we had had a lovely six week family summer seaside holiday in Fishhoek. Brother John who was only just eight was sick the entire three-day journey. Ruth and I worried terribly about him, were very nervous and felt pretty sick ourselves so it wasn't a happy episode.
John was met at the station in Bulawayo by someone from his prep school, Whitestones. Ruth and I were picked up by a tall, very gaunt and unsmiling figure in a black cloak and a strange headdress. This was Sister Lilian Frances, whom we later came to admire and love but she appeared to Ruth and me then as very foreboding, and indeed unwelcoming. Without much small talk she led us solemnly to the nun's rather bleak dining room where some supper had been kept for us. We didn't feel very hungry. I remember her offering me some spinach. It looked rather unappetisingly grey and gritty so I very politely said 'No thank you'. She looked shocked and told me I had to have some. So that was a bad start…
The next day we had to kit ourselves out in our strange and brand new St Peter's uniform ordered ahead by our mother from Haddon & Sly: dark green cotton tunics, beige blouse, leather belt and green tie, see my sister Ruth above. Goodness knows how we knew how to cope with the tie. There was a dark green blazer, and beige felt hats with a green hat band (crossed keys with SPDS in the front) with a brim which had to be kept down no matter how unfashionable and embarrassing we found it. In summer we wore beige socks, in winter lisle stockings (suspender belts – who remembers them?). And always, truly voluminous green cotton bloomers, I suppose for overall modesty.
We had quickly to master the 'Yes, sister' 'No sister' rigmarole, instant silence when the Angelus bell was rung at midday, regardless of what was happening at the time, eating everything one was served at meals, no matter how gristly or inedible, chapel twice a day, even eventually – but that's another story to be told – Confessions…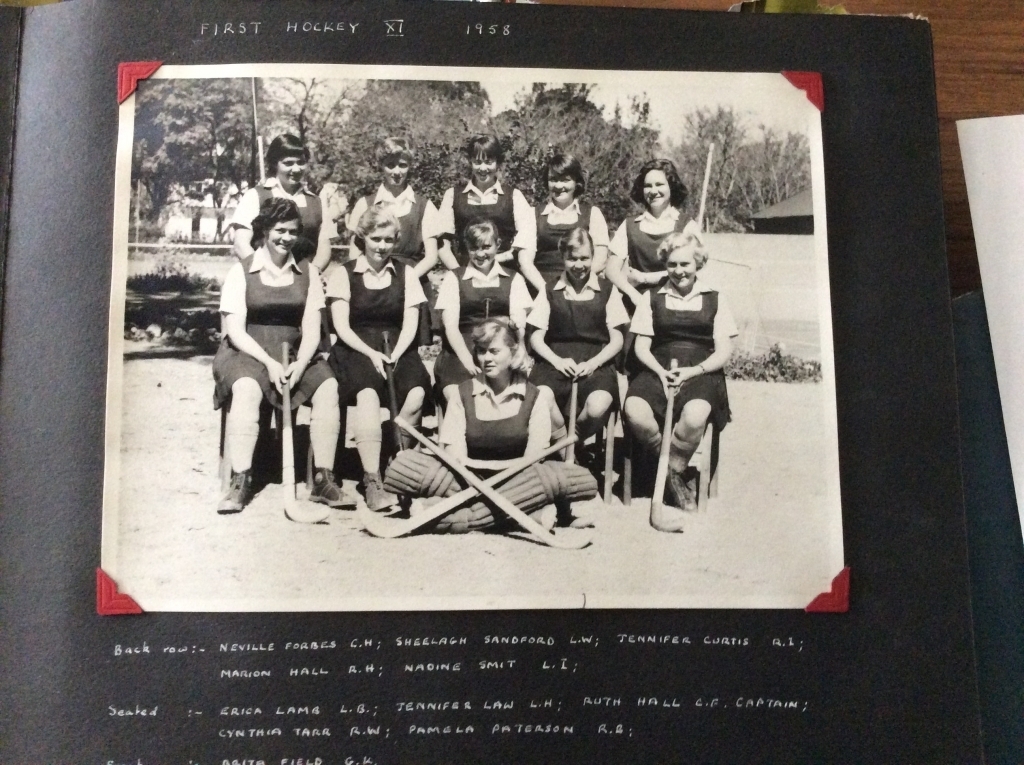 But of course, eventually, we adapted. We made lots of friends , a number of whom we are still in touch with today, loved all the sport, and six years later were very sad to leave.
Only to face another dramatic life change… My father had retired and we 'went home'. England was home to our parents but we were actually leaving home. Northern Rhodesia was our home, which we loved. We arrived in England in December 1958, it was cold, grey and we knew absolutely nobody – yet another difficult change to be faced.
As always, there was nothing else to do but just get on with life and cope with things, which inevitably, eventually, improved. I think Ruth and I were enormously lucky to always have each other there for moral support and companionship. After he went to prep school our poor brother was always on his own, family-wise, so I am sure it was much more difficult for him. I must ask him about that one day.
I am sure we weren't unique, and many of you must have had equally difficult adaptations to make as your childhood progressed.
Do you think they have affected us? And for the better or for worse?
How can one tell…?