I have had a very frustrating time, trying to get this post published successfully, following a long and uncomfortable silence while I could not even log in to my own blog which – apparently, so I was informed – had been deleted…
…Not deleted by me, nor in fact by anybody, but it was a rather helpless feeling, like being shut out of one's own house, without even the means of breaking in. The problem was finally half resolved although not explained by the website hosts. So here I am, hopefully permanently undeleted and linked up again, for a brief and long overdue catch-up.
Most importantly, we went down to Devon last week on a two-fold mission: to be with my brother John for a few days after his (third) eye operation and to attend Alice Mason's Memorial Service in Ringmore. This is the village where Alice lived all her life until in her mid-90s she went to live with her daughter and son-in-law in Kent. It is also where my parents lived after they retired, and where Alice soon became an important part of our lives.
The service was in the village church, All Hallows, where Alice played for both John's and my wedding and also our daughter Sara's wedding to Derek 34 years later.
Incidentally, Barnford, pictured here on the left and our family home for 40 years, is almost opposite the church, just to the left of the bus shelter.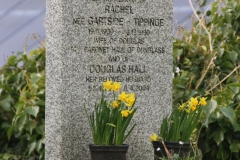 My parents are both buried in the graveyard, overlooking Barnford and the sea in the distance – there can't be many more beautiful settings for one's final resting place.
I was very touched to be asked to give one of the tributes to Alice, (standing at the lectern my father had presented to the church in memory of my mother). There was a very sensible 1xA4 page limit- she had so many attributes and such an interesting life it would have been easy to get carried away.
Another link with the past gone, but we won't forget her, and of course her family lives on. And so many links remain in the village of Ringmore, with friends made there very many moons ago and with whom one can immediately link up again without any sense of time lapse.