No, these are simply delicious biscuits – in fact Prize-winners as you can see – and not even particularly dainty; in spite of the name you do not need to be a bridge player, or indeed even a bridge-learner, to enjoy them…
The recipe for the so-named Bridge Dainties was given to my sister, Ruth Cragg (nee Hall) in about 1955 or 56 by the mother of one of her day girl friends. We were boarders at St Peter's Diocesan School for Girls in Bulawayo, now Zimbabwe, then Southern Rhodesia. Ruth has never, ever played bridge, in case you're wondering.
She had been invited out to tea with Lindsay, her day girl friend. As boarders we always were starving, and really appreciated home cooking, so needless to say we were always grateful to be invited out for tea on a Saturday.
Lindsay's mother was so pleased that Ruth had enjoyed her biscuits that she gave her the recipe. I saw Ruth's friend, Lindsay, at the St Peter's reunion in August. She remembered inviting Ruth home, but had forgotten completely about this recipe of her mother's so I have promised to send it to her, hoping she will enjoy it as much as we have done over the years.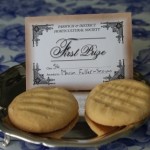 Bridge Dainties
2015-10-12 05:22:12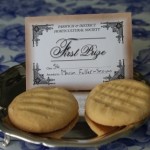 A delicious easy to make melt-in-the-mouth biscuit
Ingredients
6 oz butter
2 oz icing sugar
5 oz plain flour
3 oz custard powder
2 level teaspoons baking powder
Instructions
Cream the butter and sugar together until well mixed and soft. I use a food processor, or mixer, but you could do it by hand quite easily..
Sift in the dry ingredients. Mix until everything is completely mixed in and smooth.
Roll small pieces of the dough into walnut sized pieces. Place them - not too close together because they spread - on a baking sheet ideally lined with nonstick paper.
Flatten each one with a fork (see the pic).
Bake in a moderate oven (170-180°C, probably 160 if you have a fan oven) for about 20-25 minutes.
When ready they are a yellowish colour and firmish to the touch (although having said that, you will find they crumble easily, being so short).
Notes
They do burn quite easily, so keep an eye on them while they're cooking.
themarionfsblog https://www.themarionfsblog.com/