I've been making our Fake Bakewells for over 40 years, and we haven't got tired of it yet!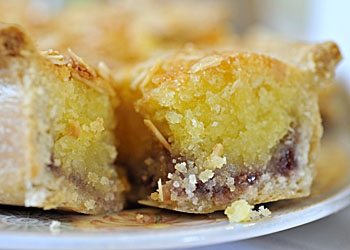 Marion's Fake Bakewell
2015-06-10 10:59:02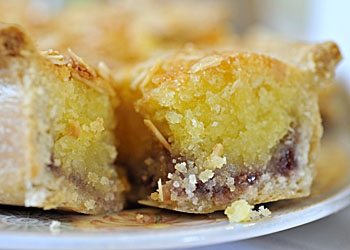 This is an economy version which most people seem to prefer to the original! NB because this is an old recipe, all the measurements are imperial
Ingredients
1lb soft baking margarine (I am sure butter would be better but much more expensive!)
I lb sugar
*1/2lb ground rice
*1/2lb ground almonds
4 eggs, lightly beaten
Almond extract
Flaked almonds
Short crust pastry (either a bought block or made with 1lb flour)
About half jar jam (sharpish like raspberry, blackcurrant or homemade plum
Instructions
Roll out the pastry and line the baking tin you are using. Ideally put it into the fridge while you make the filling but I can't say I always (ever) do.
Melt the butter/marge and sugar in a saucepan on a lowish heat, stirring occasionally to ensure the sugar completely dissolves into the melted butter. Add the ground rice/almonds and leaving it on the heat, stir for a minute or two until it is all well mixed and smooth. Take off the heat, and while it is cooling briefly, spread the jam over the base of the pastry.
Then stir into the mixture the beaten eggs and a generous teaspoon and a bit (to size and taste) of almond extract (not essence).
Pour the mixture onto the pastry. Sprinkle generously with flaked almonds and pop it into the oven. In the Aga (2-door) I put it on the bottom grid of the top oven with the cold plain sheet over, for about 25-30 minutes+. I can't help with gas or electric temperatures but I would have thought whatever you'd normally use for something similar.
Notes
The basic recipe makes one small tart so - as I have here - I usually multiply all the main ingredients by 4. Even so, you'll find it gets eaten up very quickly.
It is perfectly delicious made with ground rice and no ground almonds at all, but I usually do half and half. I've never (yet) done it with all ground almonds.
Adapted from From a Home & Freezer Digest recipe about 30 years ago
Adapted from From a Home & Freezer Digest recipe about 30 years ago
themarionfsblog https://www.themarionfsblog.com/